According to a study by the National Association of Realtors, staged properties sell 72% faster and at a higher price compared to un-staged properties. With our exciting, newly expanded suite of virtual staging services, you're able to digitally transform listings like never before!
Paint: Change flat surfaces to any color you choose
Declutter: Remove unwanted clutter without moving major furnishings
Stage: Digitally add furniture to vacant properties
Redecorate: Transform any space by changing furnishings, decor, flooring or wall colors
Video Transcription.
What is Virtual Staging?
VHT Studios' virtual staging is a perfect, high-tech digital alternative to traditional staging. With virtual staging, we are able to digitally add furniture in a vacant space, change paint colors, remove clutter, and completely remove what's in an existing room and replace it with an entirely new décor.
What are the benefits of Virtual Staging?
First impressions are everything and homebuyers often have trouble envisioning the potential of a space. Whether it's overcoming an empty room that you just can't quite picture your furniture in, or cluttered kitchen countertops, or even a room with outdated furniture or wallpaper, virtual staging is the perfect way to present what's possible in a property and awaken a homebuyer's imagination.
What kind of furniture options are there and does the client get to choose?
The client is able to choose from VHT Studios' carefully curated library of furniture collections that span all styles and décor preferences. From traditional to contemporary, and everything in between.
Is virtual staging expensive?
Virtual staging is an incredibly cost-effective alternative to traditional staging. Traditional staging can cost tens of thousands of dollars. With traditional staging, you're often charged on a monthly basis for essentially renting furniture. Virtual staging is a one-time investment per photograph.
Does the digital furniture look real?
We use the latest in virtual staging technology to provide a fantastic digital product that looks very life-like. With that in mind, we always add a "Virtually Staged" watermark in the corner to indicate the image was indeed virtually staged.
Transform any space with these four virtual staging services: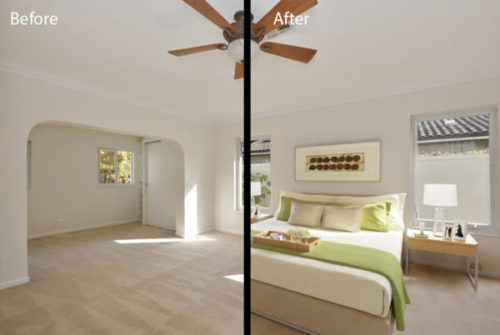 STAGE
Turn vacant properties into homes with a realistic depiction of how spaces can be furnished and decorated. Help homebuyers envision a property's potential by selecting the perfect furniture and décor options to complement the home's style.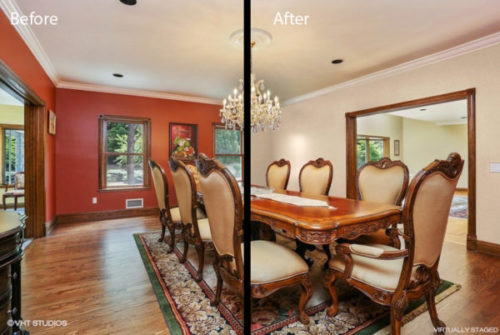 PAINT
Help potential buyers visualize the beauty of a space without lifting a paintbrush. We can change the walls in a property to any color you choose. Whether it's removing dated wallpaper or adding a bright accent wall, we can virtually change the color of any flat surface.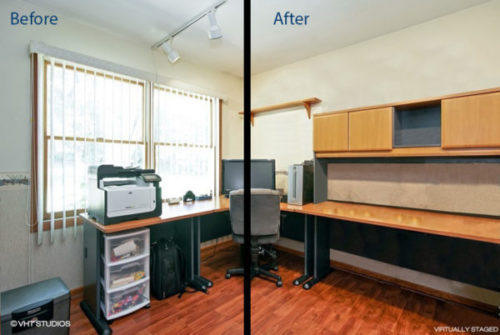 DECLUTTER
For times when a home isn't prepared for the photography session, this is the simplest post-shoot solution. We can digitally clean up clutter – – from messy coffee tables or nightstands, to packed kitchen countertops. Our Image Specialists can digitally remove any items that interfere with visualizing the true potential of a space. We'll remove clutter while leaving major furnishings in the room to present the space without unwanted distractions.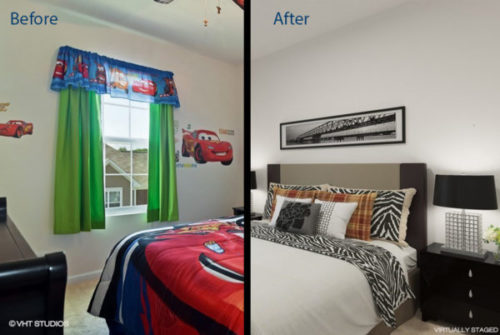 REDECORATE
This is the ultimate virtual staging transformation. Our Image Specialists can remove any existing furniture and décor down to bare walls, ceilings and floors; anything short of structural changes. Next, we completely redecorate the space by adding new furnishings, décor, flooring or wall color to best complement the space.
To learn more about our new virtual staging services, visit VHT.com/Virtual-Staging.