As a real estate agent, you are an expert in your target demographic and in your market. Targeting first-time homebuyers? You can find them here. Luxury homebuyers? Them too. The more you know about them and the more personal you can get, the better. We're talking about LinkedIn, and here, you can find all that information, grow your peer group and your client base.
We've talked about Facebook and how to make a brand evangelist out of your clients. But unlike Facebook, which focuses on personal brand growth and development, LinkedIn is designed for business brand development. This is the best tool to network with other business professionals, marketers and vendors looking to build a referral network. What better way to establish yourself than on a platform that provides visibility for business professionals?
Let's dive in and find your people.
Check out these 5 tips to get you started.
1. Optimize your profile.
Google and LinkedIn go together like macaroni and cheese. Because LinkedIn is a verified business website, it is considered trustworthy. By adding in as much of your information as possible and being active on your profile, your information will show up at the top of a Google search. It's all about that SEO. Get the most out of your profile by putting in these things:
-Industry and location
-Current and two past positions
-Education information
-A minimum of three skills and get endorsements on them
-Change the default URL to your own
-Showcase your awards, volunteer experience and organizations you care about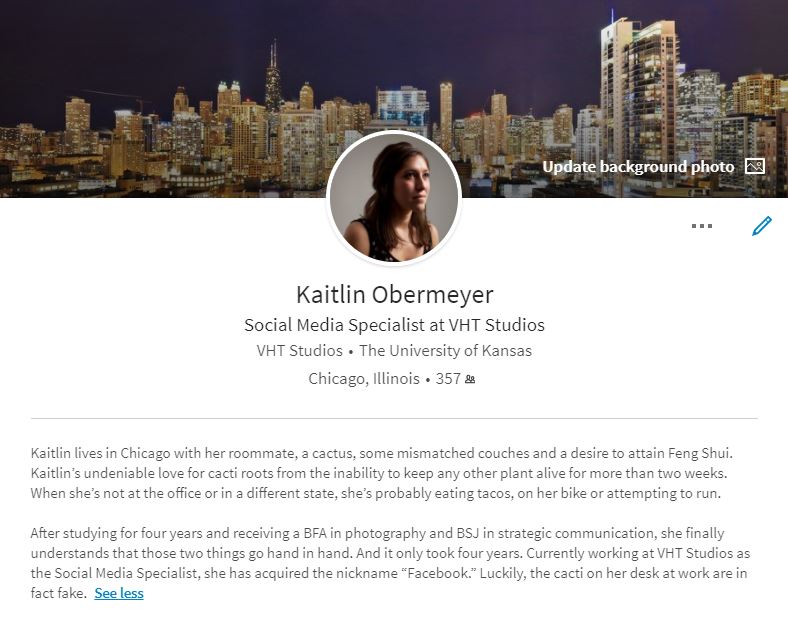 Check out my full profile here.
2. Your summary/headline is like your elevator pitch.
Here's the deal, we're not really all that different from each other. Decide what you are going to say to set yourself apart from the others. But again, our attention spans are not as good as they once were, so short, sweet and to the point.
Look at this attention-grabbing headline.

Bryan nailed the headline with his confidence and unconventional statement. Now that you've drawn them in, make sure your summary can keep up by telling them who you are on a personal level and what you're looking for. Tailor it to the clients you want.
3. Join local real estate groups.
If you're the smartest person in the room, you're probably in the wrong room, right? Expand your pool of people. There is always more to learn and you may be surprised by what others share. This is a place of people with similar interests and specialties. Find out what they know that you don't. Once you have this newfound information, educate others.
4. Network for referrals.
Those groups we talked about? This is where you can meet people who know people who know other people. And before you know it, boom. Your client base just grew tenfold. Let's say you are an agent working solely in Winnetka, a suburb north of Chicago. A homeowner calls and wants to sell their home in Naperville, a suburb to the west of Chicago. You don't sell over there but you know that Sally does so you refer the homeowner to Sally. So next time, Sally will hopefully return the favor and refer a client to you. A little friendly competition, my friends.
5. Less is not more.
The more people you know, the more you find, and the more that find you. Confused? Don't be. Growing your network might seem awkward at first because you'll be reaching out to people you may not have met face-to-face yet. When you come across people on LinkedIn that you share a contact with or someone who went to your university, it's ok to connect with them. Just make sure you tell them who you are and why you're interested in connecting. No harm in new friends!
You've got the basics. If you're reading this and don't already use LinkedIn to network and build business, what are you waiting for? Now go out there and make some friends and win some clients while you're at it!