It's Friday and you're ready for your weekly order in night. You're used to getting delivery from your local restaurant hot spots, but what if you cooked instead? There's nothing more delicious or impressive than a homemade meal with ingredients native to the area. Welcome to the fifth installment in our Recipe Renovations series, something we all think about maybe daily. Pizza.
This isn't just any pizza though, it's a Pear Prosciutto Pizza. Pears are primarily grown in the Washington and Oregon areas, so it only makes sense to pair this savory sweet sensation with one of our favorite kitchens from Bainbridge Island, Washington. Trying to envision it? The bowl of pears on the counter in this modern open plan kitchen should help. Shot by photographer Dave S., there is plenty of room here to keep the pizzas coming and even more space to prepare those locally grown fruits.
Food photographer Grace Pritchett knows the benefits of using local fare. "I prefer using locally grown ingredients and shopping at farmers markets because I like knowing where my food comes from. I like getting to meet the people in my community who grow and cultivate the produce because then I can thank them firsthand for doing what they do. I believe we feel best when we feel like a part of a community and supporting your local vendors is the best way to do that."
Check out this week's recipe and try not to drool.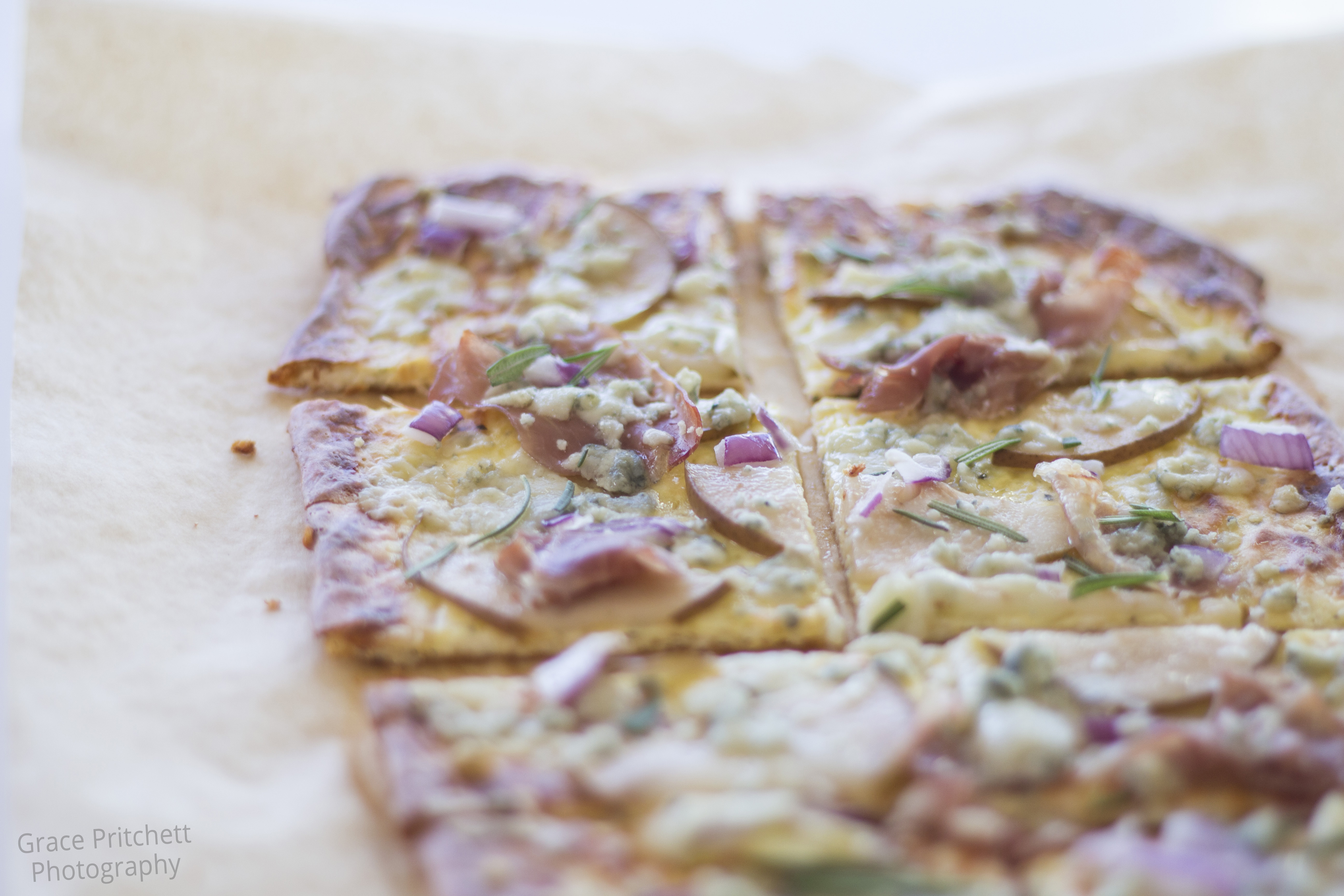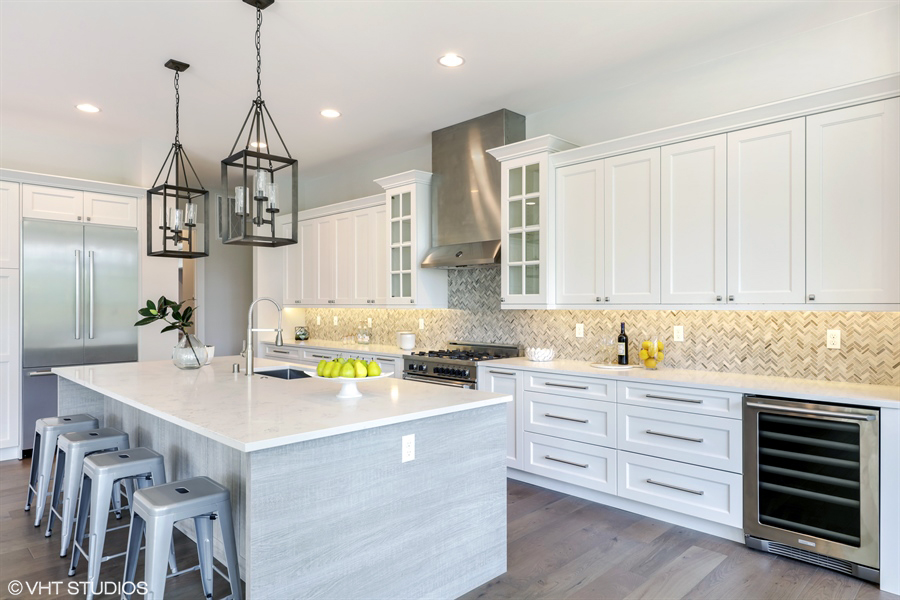 Ingredients
4 ounces Parmesan cheese, shredded
2 ounces white cheddar cheese, shredded
4 ounce cream cheese, softened
2 eggs
1 Tablespoon Italian Seasoning
2 Tablespoons extra virgin olive oil
1/2 pear, thinly sliced
4-5 thin prosciutto slices
1/2 cup red onion, chopped
1/2 cup blue cheese crumbles
3-4 sprigs fresh rosemary
Directions
1. Preheat oven to 350 degrees.
2. Prepare baking sheet with parchment paper.
3. In a medium bowl add cheeses, cream cheese, eggs and Italian seasoning. Stir until fully combined. Spoon mixture onto prepared baking sheet, smooth out to edges of pan with spatula.
4. Bake for 20-25 minutes.
5. Remove parchment paper and pizza crust from baking sheet. Flip crust onto baking sheet with fresh parchment paper.
6. Add olive oil, pear, prosciutto, red onion, and blue cheese crumbles. Bake for another 10-15 minutes. Garnish with rosemary and serve.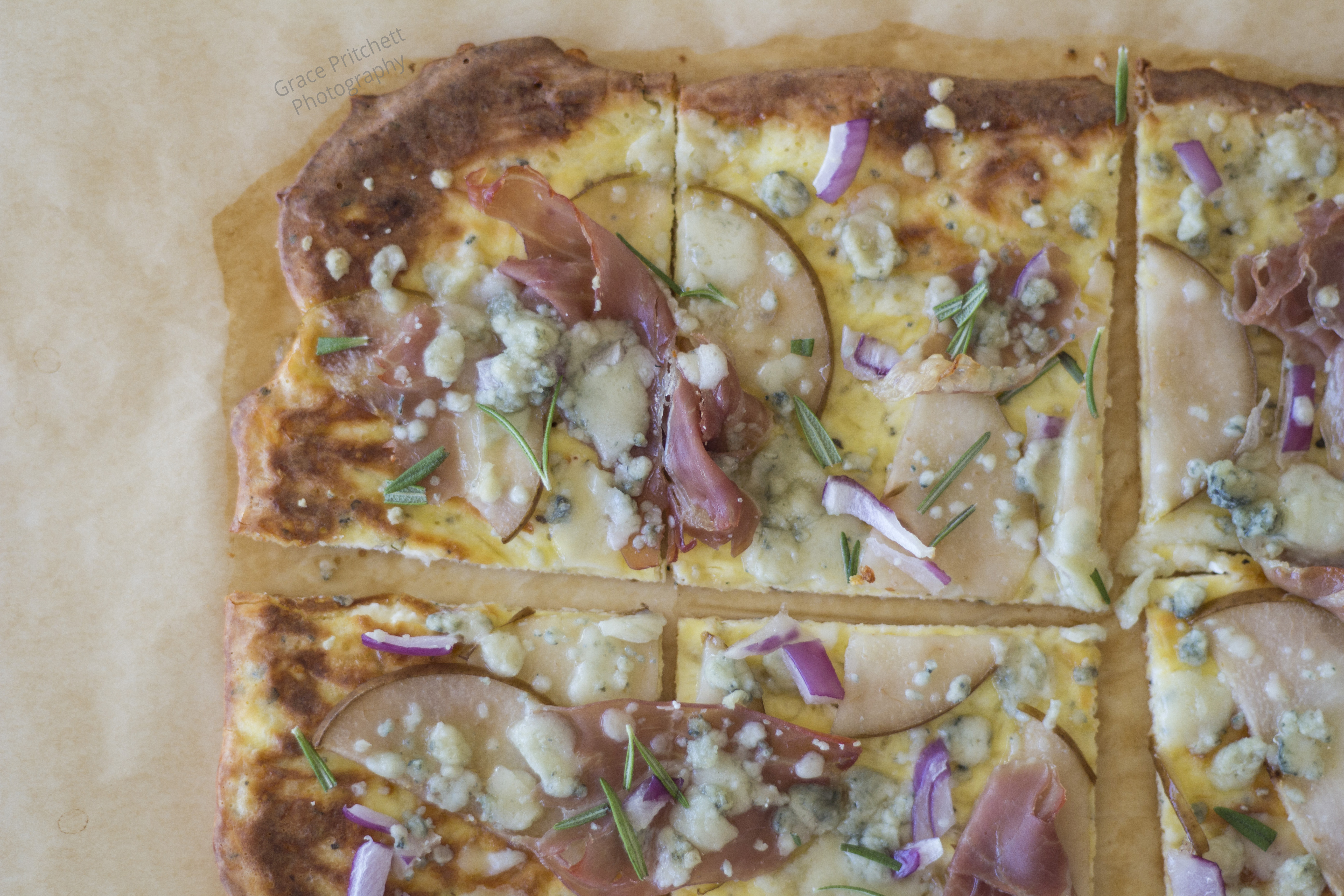 Happy pizza baking and stay tuned for more.